Parsvottanasana(Intense Side Stretch Pose)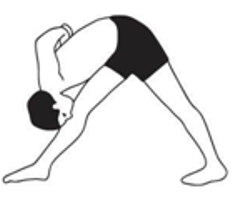 This is the intense side stretch. Start in Tadasana.
Then walk, step or jump your feet three or three and a half feet apart.
Join your palms in Anjali mudra behind your back on an inhale as you draw your shoulders back.
Then turn your right foot out 90 degrees.
Turn your left foot inwards slightly so it is pointing in the direction of the right foot.
Make your thighs firm.
Now exhale and turn your torso to the right as you bend your body forward and down from the lower back.
Rest your forehead on your thigh or knee, if possible.
Stay here breathing easily for thirty seconds.
Then inhale and raise your head and torso back up, relax your arms down and bring your feet back so you are in Tadasana again.
Then repeat this on the left side.
Precaution:
Glaucoma or high blood pressure
Shoulder injury.
Benefits:
Opens the chest.
Increases balance.
Stimulates the abdominal organs.
Provides deep stretch for the legs, hips, and side torso.
Relieves arthritis in the neck and spine.
Relieves stiffness in the neck, shoulders, elbows, and wrists.