Parighasana(gate pose)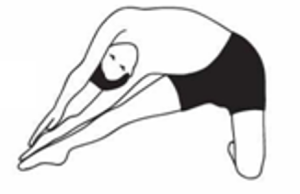 This is the gate pose.
Start in a kneeling position on your mat.
Inhale and rise up so that your upper thighs are perpendicular to the floor.
Exhale and bring your left thigh out to the side of your body, placing the foot flat on the mat.
The knee should be straight as you stretch the left leg out to the side, supported on your right leg.
Inhale and take your left hand out and place it below your left knee as you bend the torso to the left side.
Exhale Inhale and take your right hand over your head so that you are leaning over to the left side with your whole upper body, including the right arm.
Stay here, breathing easily for thirty seconds.
Then come out of the pose and relax. Repeat the pose on the other side.
Precaution:
Who having knee problem should avoid this pose.
Benefits:
Pelvic region is stretched and strengthened.
Abdomen is extended and keep healthy.
Sideways spinal movement will help persons suffering from stiff rigid back.